Hello Lovelies!
Today I thought I'd jump on the bandwagon and do my first What I Ate Wednesday :)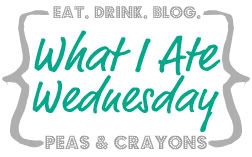 Breakfast:
Choc-o-Nut Cereal
, Alpro Vanilla Soya Yoghurt, frozen strawberries and blueberries and some organic shredded coconut. For some reason this looks titchy but it was actually fairly epic!
Lunch:
Snacks:
this
Tea:
Veggie Chilli Tacos
again :)
What have you munched today?
What are you craving at the moment?